Brown County Music Center | Nashville, Indiana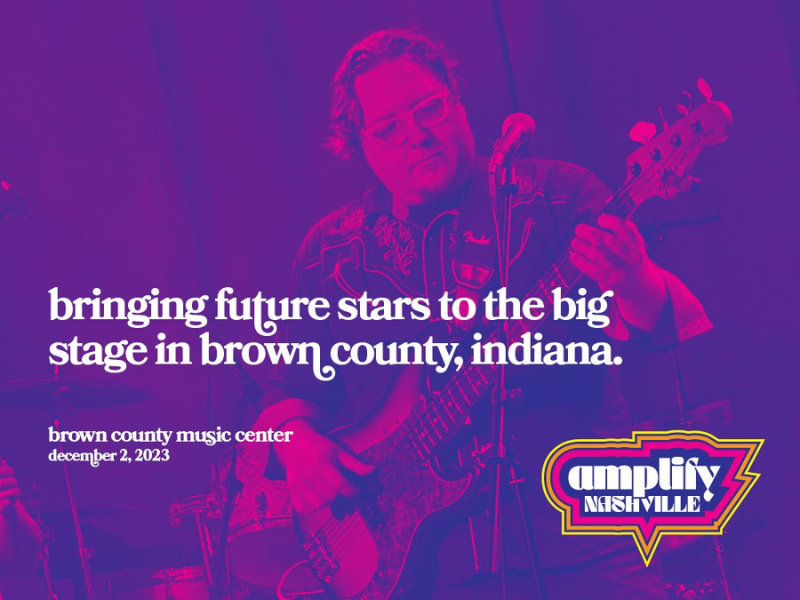 Amplify Nashville is set to have a run this year and this season's event is the town's way of honoring some of its most talented artists! Prepare yourselves for a fantastic night of folk, blues, roots, and country music as the musicians make their way to the stage and put on their best performances. This is one of Nashville, Indiana's most highly anticipated events! The upcoming show will be held at the renowned Brown County Music Center on Saturday, the 2nd of December, 2023. Prepare for a dazzling night!
All participating artists share the same passion of giving back to the community. With that being said, proceeds of the show will be donated to local charities. Show your support for your local artists and help out the community by coming to Amplify Nashville! Tickets are on sale right now. Click 'GET TICKETS' and secure yours before it's too late.
Amplify Nashville has got an awesome lineup in store for you - showcasing talents that are on the brink of stardom. You won't want to miss Cody Ikerd and The Sidewinders, King Bee & The Stingers, The Hammer and The Hatchet with IOFD, Bleu Django, and Flick N Rainwater. It's going to be a musical country fest you won't forget!
So, prepare yourselves for this exciting event that will have you singing and dancing all night long! Put on your country gear and join the show at the Brown County Music Center. If you're a fan of blues and country, there's no reason for you not to come. This much-awaited musical extravaganza will give you the night of your life. And what makes it even better, you ask? All the fan favorite local musicians of course!
But here's the best part: it's not just about great music. All these amazing artists are coming together with a shared mission—to give back to our community. The proceeds from this special event will be going to Mother Cupboard, a local nonprofit food pantry and resource center right here in Nashville, along with other deserving charities in the area.
And that's not all! The Brown County Music Center is making sure your taste buds are in for a treat too. They've got a wallet-friendly menu with tasty food and drinks that the whole family can enjoy. So, bring your family and loved ones to an event for all ages! Amplify Nashville is surely an amazing place to connect with more people and have an amazing experience.
So mark your calendars for the 2nd of December, 2023, and come join Amplify Nashville for a night of fantastic music, community spirit, and good eats! This event does not happen often. So when it does, you should be sure to show your support for the city's rising artists! There's no place better than home, and Nashville is indeed your home. Tickets to Amplify Nashville are on sale right now! Grab yours by clicking 'GET TICKETS' but be quick before the event sells out!